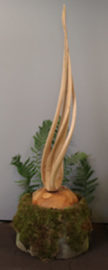 Inspiration is the source of all creativity. When I view a space for the first time, I allow my fantasy to wander and try to give shape and colour to the ideas that present themselves, while matching them with the atmosphere of the location. Hotels, offices and dwelling places evidently require different approaches.
Although this may sound surprising, 'quality' not always implies perfection or luxury. Starting from the principle of 'less is more', which I prefer to do, new accents and the wished-for atmosphere can often be achieved by simple means and accessories.
Durable accessories may add value to your interior, which is shown by 'Ablaze', an alder wood piece of art, made by the Dutch sculptor Wim Meyles.
Even for a newborn child environment is important. Babies are unable to distinguish colours at first, but there is no doubt that they arte sensitive to atmosphere. Paying attention to the child's surroundings is at least desirable therefore…
This is exactly the care that Interisfeer provides. Follow the link to read more.